A volsnap error shows up when you are dealing with low disk space in any drive (C, D, E or F Drive or any external Disk Drive). When this error appears, you would not be able to take a backup.
If you are using a hard disk which you are trying to backup, you may see a message such as "Failed to Backup".
The Volsnap source errors are events that are listed in the Windows System event log. Such events usually contain relevant troubleshooting information as to why the shadow copy got dismounted and as a result, causes the backups to fail.
The shadow copies of volume D: were aborted because the shadow copy storage could not grow due to a user-imposed limit.
Description
What is a Shadow Copy?
Shadow Copies are nothing but Snapshots. A feature available in Windows file which creates these snapshots of a disk volume. You can create or store these snapshots or shadow copies on a local disk, an external hard drive, or even a network drive.
It is a type of technology which enables backup of files and creates snapshots of files and drives based on a schedule.
You have probably more shadow copies than you may know. Every time a system restore point is created, you will have a shadow copy.
Every time a system restore point is created, you will have a valid shadow copy.
Shadow copy is what you use to recover deleted files.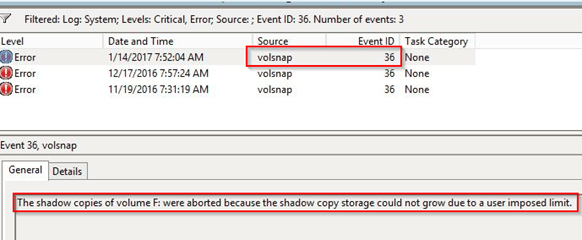 Procedure to fix Volsnap Error
Firstly, identify the volume ID in Event Viewer.
Then go to the Shadow copy configuration window by right-clicking on any storage drive > click on Configure Shadow Copies option
Now, check how much free disk space is available on the system volume in Windows Explorer.
Open Control Panel > System > Advanced System Settings.
On shadow copies configuration window select the volume id same as shown in the event.
Click on Setting > Under Maximum Size : Select Use limit > Set it on 320 MB > Click on OK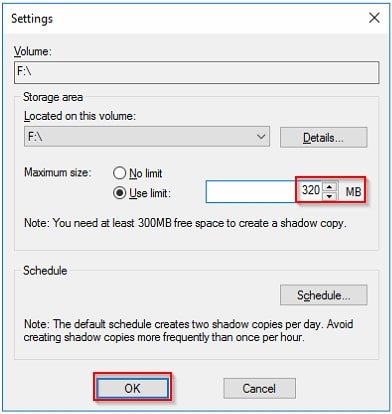 Then again go to Settings for the same storage id > Under Maximum Limit option Use Limit as "10% of total storage of that drive" > Click on OK
For example: If your drive's total size is 100 GB then the shadow storage should be 10 GB.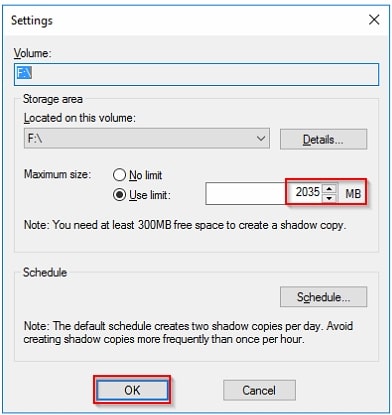 Once you do this, the error should not appear again.
Some of these blogs may be of interest to you:
How to fix Microsoft Error Code 80090016
IT Outsourcing from India: 6 reasons why you should
How to get the right clients for your MSP Business
Fix Clock Drift Monitoring Error on N-able N-central
ConnectWise Automate: Show devices that are more than X years old