Being an IT Admin, you must set MDM Authority prior to enrolling any devices for management. But if you are a tenant using the 1911 service release and later, the MDM authority is automatically set to Microsoft Intune. But what if you are unable to push apps via Intune? You need to enable MDM Authority for that. Here's how you can do it. Here's a real scenario of how we resolved it for one of our end customers.
I have recently started working with one of the Azure test environments and have been trying to push some applications like the ones below, to manage devices via Intune.
Google Chrome
Nitro PDF
Office 365 Deployment
When I download the above applications and try to push it via Intune to the managed device it's not recognized and shows the application is still in process when I check Manage App on the device.
So how to solve this and recognize why is it not pushing the application to manage the device?
Here is how you can change the settings to easily push and manage apps via Intune.
Step 1
First, you need to login into the Azure Intune Admin console.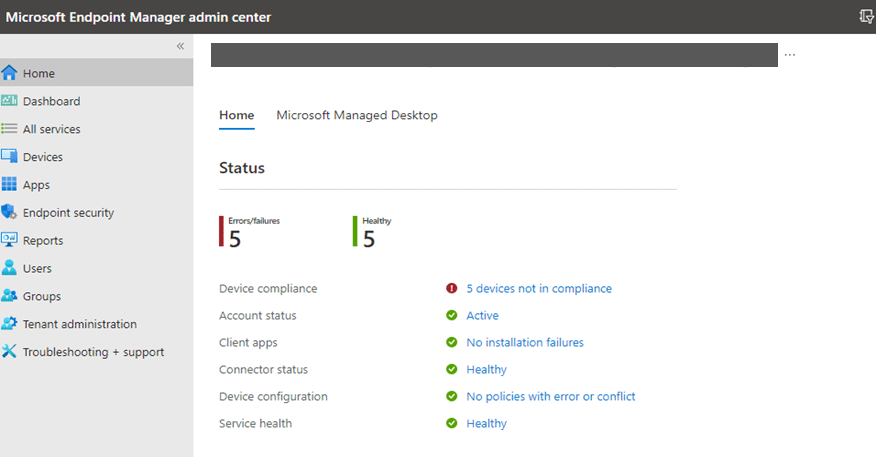 Step 2
Once you have logged in, select the Apps option from the left panel in the Intune Admin Portal.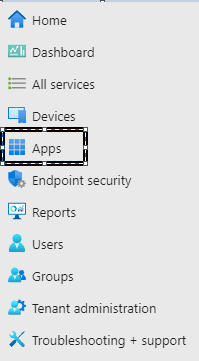 Step 3
Once you click on the App option, MDM Authority is shows Microsoft 365 Authority instead of Microsoft Intune.

Microsoft 365 Authority under MDM Authority
If it shows Microsoft 365 Authority instead of Microsoft Intune, its means it offers fewer management features than Intune.
Microsoft Intune under MDM Authority
It can add Intune, a cloud-only, fully-featured MDM service, to your Office 365 MDM Authority.
Step 4
If you want to change MDM Authority from Microsoft 365 to Microsoft Intune, you need to open this link and check the Intune MDM Authority option.
Step 5
After opening the above link, you may see the below screen where it gives the option to select Intune MDM Authority. Select the option and click on add.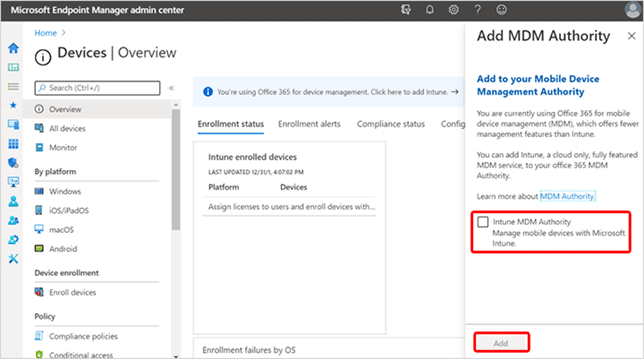 Step 6
Once Intune MDM Authority gets added, you can see the below screen.
Instead of Microsoft 365 Authority, now it has changed to Microsoft Intune.
Once you get this done, you'll see that all your Intune App Policy will work fine.
Pushing applications to your managed devices will now be possible.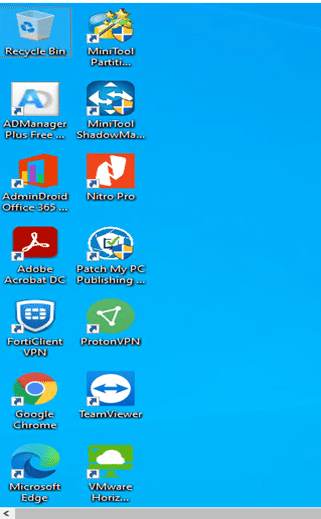 Frequently Asked Questions
What is MDM in O365?
MDM stands for Mobile Device Management and as the name suggests, it helps an organization manage the devices enrolled within their network. It is in-built within the Office 365 platform
What is MDM enrollment?
Enrolling devices in MDM Intune helps the organization manage the devices that are in their premise.
Can MDM track browsing history?
No. MDM cannot track browsing history but it surely can restrict certain apps and browsers.
What can Intune MDM see?
When your organization enrolls a company device under Intune MDM, they cannot see your personal information or your emails, texts, pictures, files, search history, passwords etc.
However, what they can see is your device number, the model, device IMEI, App inventory, App names etc.
Is Intune free with Office 365?
Intune is a paid subscription. It is not included in the Office 365 subscriptions and M365 Basic and Standard Subscriptions but it is available in M365 Business Premium and its Enterprise, Education and EMS range of licenses.
Upcoming
If you want to know how you can install Line of Business Apps using Intune, then make sure you read this blog right here, where we show you a step-by-step procedure of how you can do the same.
Apart from that, we keep uploading technology-related blogs every week, keep an eye out on our blog section.