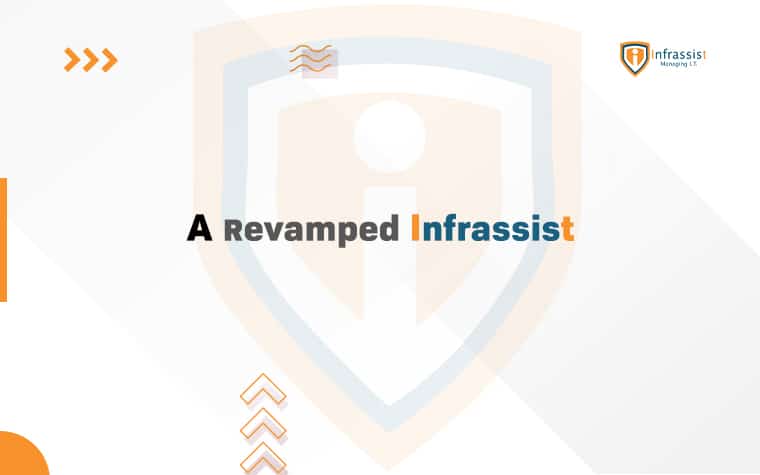 A New and Revamped Infrassist
Who doesn't like change? Who doesn't like scaling?
A revamp, a tweak is always a good idea, isn't it?
We are elated, we are delighted and we are immensely honoured and proud to announce that we, Infrassist Technologies Pvt. Ltd. has undergone a revamp.
We have a new colour, a new branding and a lot of new services to offer to our MSP Partners.
Why the change?
The previous website didn't have a lot of features that we used to offer. We talked about Microsoft Services to our prospects but we didn't have any information about it on our website. How would people have trusted us? There was a huge misalignment in what we were saying and what we had on our website.
We were already planning on adding new content and making the change, then why not try something new?
There was a visible gap and that is when we felt the need to undergo a modification. Why not a facelift? That is when the marketing team felt the need to undergo modification and decided to jiggle things up.
The previous red colour that we had, wasn't appealing when used on collaterals. Our graphic designer got to work and gave us a bunch of suggestions for logo colours. From all the colour combinations that we went through, we finally settled on this:
Why this colour?
The idea behind this change is to make our website and collaterals look mild and professional. Additionally, we feel that we can be more approachable to companies, with Orange as our primary colour as opposed to the previous colour.
Orange is said to exude positivity, enthusiasm, excitement and warmth. And the blue indicates stability and reliability.
New Services – Infrassist
We can't exactly say that these are new services. We have served our existing partners with these services but convincing newer ones was a task. With the addition of these to the new website, we have categorized our services into the following 3 categories-
Professional Services
Microsoft 365

IT Automation Services

RMM Audit

Firewall Audit
2. IT Infrastructure Management
O365 Admin

Azure Admin

RMM Admin

Firewall & Endpoint Admin
3. Monitoring & Managing Support
24X7 NOC Support

Helpdesk Services
A brief overview of the Services
Microsoft 365 – Under M365, we have Teams Adoption, SharePoint Migration, Power BI, Power Automate, Intune MDM/MAM, Autopilot, Azure, Identity and Access Management, Advanced Threat Protection, Data Loss Prevention, Tenant Level Features.
IT Automation Services– Digitize your workplace as we automate your mundane IT Tasks via PowerShell Scripts, custom integrations through API, by leveraging Power BI and Power Automate
RMM Audit– We perform an audit of the RMM Tool that you use so that you can optimize it for a better, more enhanced performance
Firewall Audit– An audit of the Firewall tool so that you can check if it's properly configured or not.
O365 Admin– Leave the everyday O365 operations on us
Azure Admin– To help you leverage all of Azure's future-ready cloud solutions
RMM Admin– A dedicated RMM Admin
Firewall & Endpoint Admin– A dedicated Firewall & Endpoint Admin
24×7 NOC Support– 24×7 NOC Support
Helpdesk– For quick and optimal IT Support and Resolutions
Infrassist's mission has always been to provide our MSP customers deliver robust and reliable Infrastructure
management and security services. To deliver service excellence with Integrity leading to predictable outcomes. To build a team with passion, commitment and relentless customer focus. And this revamp, expanding our platter of services to provide MSPs with the best, is a step towards the same.
Our goal is to see businesses efficiently run their operations because of the difference that we made.
Here's to more such endeavours and adventures to bring a change.