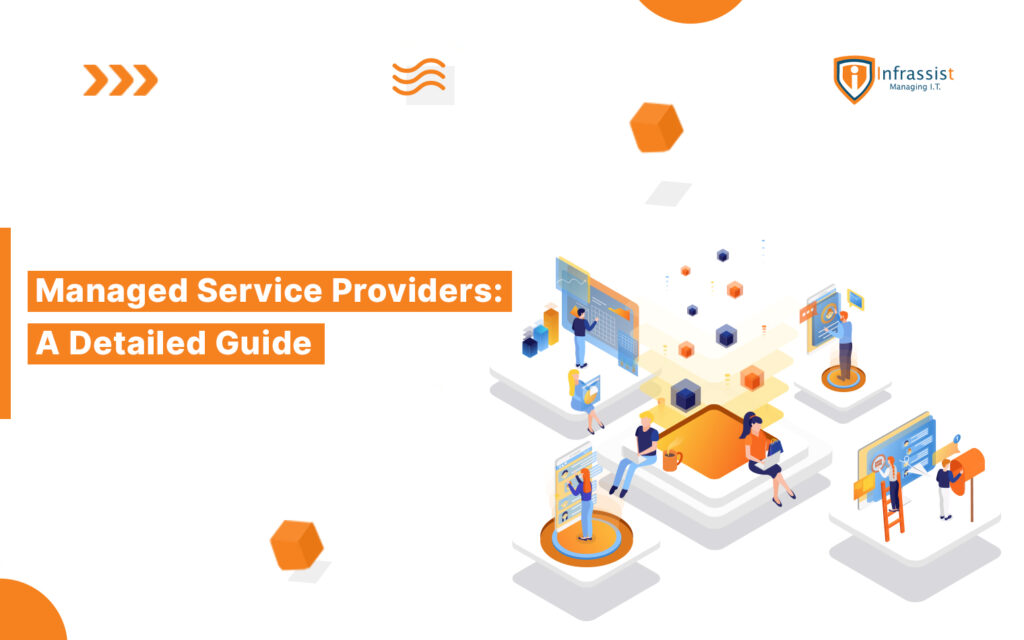 Managed Service Providers: A Detailed Guide
The global managed services market is worth USD 161.37 billion in 2021 and is expected to be worth USD 311.32 billion by 2028, growing at a CAGR of 12.44% over the forecast timeframe (2022–2028).
Managed services assist firms in increasing operational efficiency and lowering operating costs while allowing them to focus more effectively on core capabilities. Furthermore, they ensure appropriate resource allocation and usage, resulting in increased profitability and operational performance. Because of scalable infrastructure and adaptable managed services models, businesses find it simpler to adapt to technological developments. Most of these aspects will likely fuel market expansion during the projected period.
A managed service provider is an entity tasked with overseeing and offering services to other businesses as needed (MSP). An MSP often offers regular and remote operations. MSPs traditionally managed or delivered information technology (IT) services, including infrastructure, networking, security, and applications. However, a contemporary managed service provider could also consider a company's other operational requirements, including staffing, payroll, customer interaction, and vendor management.
The Expansion of Managed Services
The IT environment was changing, and many traditional break/fix model businesses acknowledged this. Since they could ensure that businesses would continue operating with no change in operational expenses, the majority started to provide flat rate fees and service-level agreements. The industry shifted from being reactive to malfunctioning equipment to being proactive towards those that required repair.
This new managed services system benefited all stakeholders. Less downtime and mistakes resulted in higher production and efficiency for businesses. Managed care providers saw financial incentives to deliver better care. After all, a healthy network requires less maintenance.
Since the birth of managed services, technology has evolved several times, but the concept has generally remained the same.
How do MSPs Benefit You?
Technology is transforming business networks across the spectrum, but for non-IT firms, information technology is a facilitator and a source of insights. Upkeep of the technological infrastructure is a quasi-support task. It makes perfect sense for businesses to delegate these tasks to a managed services vendor to free up their time to focus on their core business operations due to the increasing intricacy and brand awareness that IT infrastructure maintenance, upgrading, and administration need.
A widespread misperception holds that outsourcing lowers your degree of data protection. However, you can be confident that MSPs adhere to strict safety and data management standards and are built to provide powerful backup and restoration systems. It makes them far more capable of preserving your information than even in-house IT employees. Furthermore, owing to monitoring equipment that addresses issues early on, you will not be concerned about software glitches placing you in a time rush on a critical project.
The optimization of infrastructure may significantly impact businesses moving to the cloud. Cloud-based infrastructure makes it simpler to scale up instantly in response to activity surges and scale down during slow periods. Organizations may protect themselves from expensive hardware purchasing decisions by letting a managed services provider handle their scalability requirements. Additionally, managed services vendors can use their increased experience to address issues as they arise.
The availability of knowledge, best practices, and top-notch tools and technologies
MSPs have worked with a wide range of companies and organizations. With constantly changing technology, support, and productivity needs, managed service providers help keep your company current and on course. Let's face it: Small or mid-sized companies can only afford to catch up in technological advancements in today's business environment.
Types of MSPs by Managed Service
Examples of managed services include the administration of infrastructure and applications to provide connectivity, network protection, monitoring, virtualization, and recovery strategies. Also, managed services could encompass mobility, customer care, and technical support in conjunction with storage, computing, and communications. A managed service provider (MSP) is available to assist with almost any IT requirement that businesses may have.
The varieties of managed services include only a portion of what is shown below. Various MSPs provide services for one or all of the following:
Assistance Services– Help desk and IT operations management are examples of these services. Diagnostics and corrective action.
Software-as-a-Service– The SaaS model is today's version of the conventional ASP paradigm.
Security services– Security solutions comprise patch management, security updates, antivirus software, and malware defense.
Analytics of data– Data collection, analysis, and insight-generating AI/ML technologies are all part of these services.
Mobile computing and communications– Thanks to this integrated mobile business software, your entire staff may access the connection from every location.
Infrastructure for clouds– This service offers networks, operating systems, memory, and cloud-based computation.
Infrastructure and the network– Infrastructure for communication, networking, managed servers, and storage solutions are provided. Managed local-area networks (LANs), managed portals, and automated software assistance are examples of such environments.
Collaboration and communication– Data, video, and telephony services are available through an IP network. Tools for unified collaboration and communication (UCCE) and managed contact centers may be found here.
How Much Do the MSPs Charge?
The scale of the customer's business and the necessary services will significantly impact the price of an MSP. Along with pricing, assistance might vary in scope and intensity. While some firms only need essential maintenance, others may require a whole range of support, strategy, and cybersecurity services. However, statistics indicate that organizations have better performance and security, in addition to cost savings of up to 50% for their IT services.
How MSPs Operate?
The service provider begins by thoroughly examining the outsourced processes once you have chosen an MSP and the agreements and service-level agreements (SLAs) are in effect. This makes it possible for them to decide how to optimize resource usage, cut expenses, and increase process efficiency. Their professionals also spot problems with your procedures that you would have needed to be more capable of identifying on your own.
The service provider develops a tailored solution and offers continuous support and maintenance for the outsourced activities based on evaluating and identifying liabilities and risks.
How to Choose an MSP Partner
Several challenges are presented when moving to cloud settings for businesses looking to stand apart from managed service providers. Organizations need ongoing technical assistance and a higher return on investment, which MSPs successfully satisfy by assessing new services to ensure that they fulfill the needs of particular businesses.
Before spending money on an MSP, it is crucial that enterprises carefully evaluate and prioritize their problems by taking into account the relevant factors. They must pose the appropriate inquiries, such as.
How will they implement strategic innovation to create a proactive business?
How will emerging technologies like automation, artificial intelligence, and machine learning be incorporated into their company processes to improve them?
How much business stability and dependability will they attain thanks to the managed services provided?
The key is transparency; without it, there would be a mismatch between the services used and the quality of the results. To achieve seamless integration of technical capabilities, organizations must verify that the services and solutions they choose are the optimum matches for their infrastructure.
The Future
In the following years, managed service providers are anticipated to see fierce rivalry. They will become more competitive due to remaining aware and prepared for shifting market dynamics and trends. It's anticipated that emerging technologies like edge computing, AI, and the internet of things (IoT) will disrupt MSPs.However, MSPs can change their approach of working and focus on limited nuumber of clients. Adhering to planned worflows for seamless operations and automation can help them be more efficient and will stay a step ahead of their competition.
While security becomes an increasingly important area of attention for enterprises, data will play a significant role in how managed service providers' future products are influenced. MSPs who make investments and develop their skills in identification and access administration, risk management, and regulation are likely to stay ahead of the competition in the future.