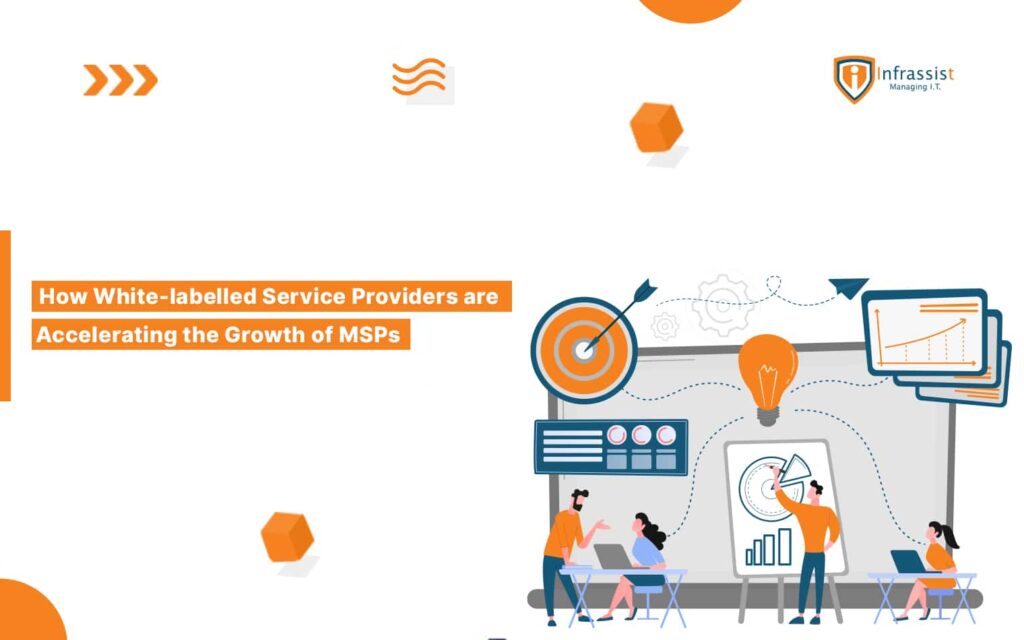 How White labelled Service Providers are Accelerating the Growth of MSPs
It is often said that an entrepreneur's role is to find and bridge gaps between existing problems and unique solutions, to see "what is" and figure out "what could be." Isn't that what being an entrepreneur is all about? Yes and No. Not always.
According to a Statista report, the number of branded companies worldwide went from 122 million in 2000 to 213.65 million in 2020. Thousands of brands and, with them, thousands of innovations appear on the market daily. That makes it hard to find problems that haven't already been solved. This is where white labelled service can help you.
What is a White Labelled Service?
A white labelled service is a product or service developed by one company but sold by another. Instead of finding new solutions, you can purchase tested solutions without branding and sell them to your customers with your label. The simplest example is the products spotted on store shelves. They usually have the "store brand" on their labels. These are products bought from manufacturers without branding and are being resold.
Customers will associate the products or services with the reseller after the products are customized with branding and logo. Meanwhile, the producer can concentrate on just cost-effective ways of manufacturing without having to worry about marketing.
What Exactly is a White-Label Partnership?
Many companies provide services to their white-label partners, which they can market to their customers. A white-label partnership allows businesses to provide additional services to their customers and clients. Your White Label Partner can be a team of professionals or individuals working on your projects, effectively operating as a core team member without being one.
A White Label Partner can work as an extension of your team and can use your company's email, software, logo, and other business-related elements. A solid white-label partner overrides the need for you to hire more people or manage everything yourself. Instead of limiting your clientele to a small number, you can get and manage more customers by outsourcing their responsibilities to a credible white-label partner.
Why are White Label Partnerships Important for MSPs?
In 2021, the global managed services market was valued at USD 161.37 billion; by 2027, it is predicted to reach USD 311.32 billion. Companies are increasingly leveraging managed service providers to support their businesses worldwide. This makes it essential for MSPs to keep adding new offerings and services to their catalogs. But only some MSPs have enough time or resources to invest for that purpose. Building a customized solution from the ground to fit your company's unique offerings can be a recipe for disaster. Creating your solution can lead to the following outcomes:
You spend much time and money developing existing tools or solutions.
You make the same mistakes that others have already made and rectified.
Your time to market will be affected drastically as you try to troubleshoot and broaden your learning curve outside of your core skills.
To expand their service offering spectrum and overcome these problems, MSPs need partners that can provide highly customizable and flexible human resources and services. White-label partnerships have brought a paradigm shift in the managed service domain. More and more MSPs are leveraging and reselling services provided by such partners.
Why are White labelled Service Important?
They align with your brand. The MSP is providing their managed service, and most of that, as stated above, is more knowledge and service over product. White labeling enables you to align the value proposition with your brand against the investment made.
They create a better connection between the client and the MSP. Rather than the client focusing on the vendor if something goes right or wrong, the MSP is in the chair. This results in a better level of service for the client and a better, higher-value offering for the MSP – win/win!
How Can White-label Partners be Useful for Your Business?
Among the many benefits of legally reselling services and goods produced by your partners, below are a few essential points:
With the help of white-label partners, you can expand your business and broaden the scope of services you provide without increasing your resources.
You can provide new features and services to your customers without worrying about R&D.
You'll have to focus on proper branding. Providing customers with additional services will strengthen your brand value and awareness.
You'll end up getting more leads because of the additional services.
The Advantages of Working with A White-label Partner
Below are a few essential points on how you can simultaneously increase the quality of your services and profitability with white-label partners. Domains, such as SEO, social media, affiliate management, web development, design, and pay-per-click, but unless you have steady clients wanting all of that, there's likely no point in paying staff members that you aren't going to need all the time. Considering the number of do-it-all agencies out there, to succeed and build a reputation for your agency, focus on perfecting a limited number of services. For the rest, a specialized white-label partner can come to the rescue — the arrangement can be cost-effective, as well, compared to hiring someone in-house.
It helps your company grow without committing to hiring more employees and incurring yearly pay fees.
You may devote more time to creating procedures, educating employees, and pursuing prospects.
You are the industry expert clients turn to when they need work done on schedule and within their budget.
It provides the one thing almost everyone desires: Extra time in a day.
Another benefit of outsourcing is that you do not need to look for employees locally. With outsourcing, you may collaborate with anybody, and anywhere you want. You could operate around the clock by outsourcing labour to several time zones. I am aware of a few organizations that carry out this same function.
While outsourcing to white-label partners probably sounds fantastic so far, it's not all rainbows and unicorns. Outsourcing work to any third party can have risks, and white-label partners are no exception.
Here are a Few Elaborated Advantages of Working with a White-label Agency:
More time to concentrate on your area of expertise
You may invest time in finding the correct people or educating your current staff when your clients need a service in which you lack experience. Working with a white-label partner may meet your client's needs without spending time on laborious chores or adding additional team members.
Clients sometimes need high levels of knowledge for particular jobs, so if you need more skills, you may always seek the assistance of a white-label agency. This frees more time to concentrate on your current offerings and company objectives.
Increase the number of services you offer.
Numerous services complement one another and might aid in the expansion of your client's organisation. Offering a comprehensive set of services gives your customers more value and aids in keeping them as customers.
White-label partners help you provide what your customers want—the client benefits from not having to visit a different agency for various services. Ultimately, you turn into their go-to person and even spare your customer the headache of vendor clutter.
Become a part of an experienced group.
You can save a lot of time if you give a project to white labelled-service providers. They would provide you with a project management staff that is skilled and capable of doing the work more quickly. You save time and gain knowledge from a specialized staff on the technical skills needed to do that specific assignment. This operational strategy helps you avoid paying for the management of a full-time person. Additionally, it safeguards the energy you expend on team growth and hiring.
Make more money
White-label services might assist you in increasing customer income. You can spend time recruiting and onboarding new employees if you partner with a white-label SEO agency. Without making a significant outlay on your part, you can meet the various needs of your client.
Your client will gladly accept your services and pay you the price you set.
Reap advantages from the knowledge of the white label agency.
Due to their specialization, white-label companies have substantial offerings in a few niches. A white-label firm could be experienced in tackling a specific issue that your customer might require your assistance with. Since the remedy would have taken some time to design, the agency must have learned something. They would have gained experience, understood the subtleties, and been able to provide answers thanks to these learnings confidently.
You might seek the assistance of a white-label agency rather than assisting the customer with your limited skills. Not only will this benefit your customer, but it will also strengthen your relationship with them.
Now that you know what to expect regarding white-label partnerships, you can decide whether it might be something you want to try. As you consider potential partners, ask questions about whether they'll be a good fit. The right partner can enable you to reap all the above benefits and build a solid client base.
Are you a MSP that needs assistance with technical operations?

Contact Us