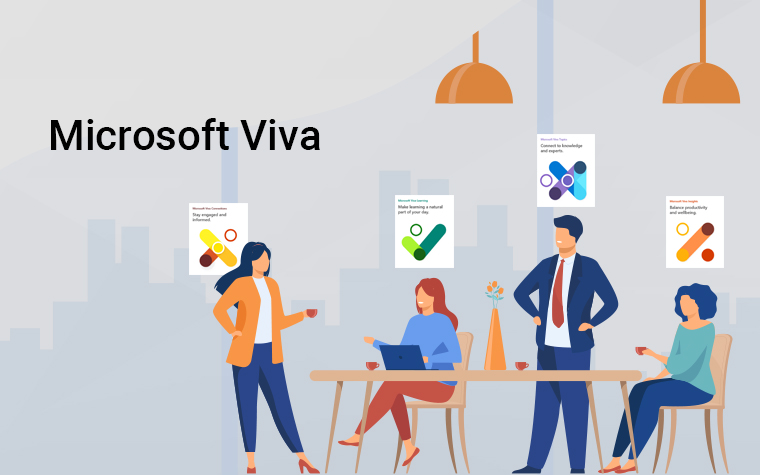 Microsoft VIVA- The new Employee Experience Platform
Microsoft has always taken a step towards enhancing workplace collaborations and communications. A platter filled with tools that fulfil all your business needs that lets you stay in touch with everyone, ease collaborations and tools that enable every employee to receive constant updates, whether it be Microsoft Teams, SharePoint or OneDrive. Aligning with the idea of sharing and collaborating, Microsoft has come up with a new tool, a new product named Microsoft Viva. A platform designed to help people collaborate efficiently, gather knowledge, learn & engage. 
Let's know more about the tool. 
Microsoft VIVA
Aimed at enhancing an employees' remote work experience by connecting and collaborating, Microsoft Viva is an "An AI-powered solution that discovers, organizes and surfaces what matters". It will act as an Employee Experience Platform (abbreviated to EXP) aimed at increasing employee productivity, proper communications and prompting employees to take a break.
How can MSPs benefit from Microsoft Viva?
With the onset of COVID-19 and workplaces shifting to individual houses, collaborations, learning, sharing insights, has been difficult. Although Microsoft Teams has made it very easy for geographically dispersed employees to connect and communicate, with VIVA, Microsoft has taken a step ahead. The entire workforce was forced to work-from-home during the pandemic and so were MSPs. A platform like Viva could prove really helpful and was designed keeping in mind seamless collaborations and learning to take place. All these Apps would be made available through Microsoft Teams which has over 115 million users on a daily basis.
To enhance the employee experience, Microsoft has teamed up with SalesForce, Headspace, Coursera, edX, Cornerstone OnDemand, Slack, LinkedIn, Workday, Skillsoft, Zoom, glint, SAP SuccessFactors and many more. 
VIVA has been bifurcated into 4 modules, Viva Insights, Viva Topics, Viva Connections and Viva Learning. Prices of each will be disclosed as and when they release them. They'll be rolling out the modules over the next 3-6 months as an add-on to the m365 subscriptions.  
Viva Insights and Viva Topics are available for purchase as an add-on to all Office 365 and Microsoft 365 plans. You can see pricing here.
Viva Insights
:
Tenants who have enabled Viva Insights will be able to download the Insights App within their Microsoft Teams. 
There'll be three tabs within Insights- Home, Stay Connected and Protect Time. The Home dashboard will have focused time- to help you focus on your core tasks and aiming at personal well-being there's a tab for guided meditation. At the end of your workday, you'll be shown an overview of your calendar for the next day, prompted to reflect on your day. Helping you wrap up your day in a mindful way. 
The Stay Connected feature will help pin people and will show you AI-based task suggestions clubbed with reminders regarding follow-ups.
The Protect Time feature will help block times for an individual so that he/she can focus. 
The weekly emails from Microsoft's Cortana will help the employee set aside time for Learning, Connecting etc. The mail will also give Links to take up LinkedIn Learning courses. 
Viva Topics:
Viva Topics will be available within Microsoft Teams itself.  Viva Topics will help an individual learn something new. During the communications that take place within teams if there is something that is new or unknown to the employee, they can simply hover over the word or the topic, which will then show you a Topic Card that shows a brief summary of the word. Along with the brief summary, the employees will also be shown who the experts are in the field and a list of related documents. When expanded, Related Topics, discussions, a repository of files related to the topic, etc. will be shown. 
These Topic Cards would be made available not only in Teams but also Outlook, Search and other M365 Apps. Users can also add and create new topics. 
Viva Connections
:
Think of it as a gateway to your digital workplace. It is "built on M365 capabilities like SharePoint to provide a curated and branded employee destination." The content shared can be customized for specific roles within the company. Viva Connections will be rolling out in the near future: stay tuned for more news on this one at Microsoft Ignite 2021!  
Viva Learning:
Being part of an organization that enhances ones' skillset and knowledge, is what every employee wants. Where you learn every day and it aides an employees' career growth. Viva Learning creates a central hub for learning within Microsoft Teams. The Learning Hub would help people discover, share, pin, recommend and learn from online educational platforms. 
On Viva Learning, employees can learn from online learning platforms like Coursera, edX, LinkedIn Learning, Pluralsight, Skillsoft and many more. Courses will be recommended to an individual with the help of AI. Curated courses would show the right content at the right time, to increases the chances of people viewing the course. 
Below we have answered some questions that you may have regarding the platform
Should 
one use 
Viva? Is it the same product, packaged differently?
Yes, Indeed. Viva will be integrated with Microsoft Teams to enhance the employees' experience. The platform is a culmination of various Microsoft features bundled and integrated into Teams. Microsoft Viva will be a one-stop-shop for an organizations' needs.
How will it enhance productivity?
Productivity will be improved because all different tools and functions offered in M365 will be available in a single platform- Microsoft Teams. You won't have to juggle between different apps or software. 
How is Microsoft Viva different from Microsoft
Teams?
It is different from Microsoft Teams in a way that many different features have been combined into the Teams Platform. The usual employee conversation and collaboration would still be intact with the benefit of enhancing conversations through learning, knowledge and prioritizing what's important.  
In how many languages is Microsoft Viva available?
Currently available in English, Microsoft will extend support in Spanish, French and German in the second half of 2021. 
As Viva Learning acts as a central hub for courses from Coursera, edX, 
Pluralsight
 etc., does one need to bu
y these courses or will they be available for free?
Let's say a Marketing Course was circulated in Viva Learning but there is a course fee to access and join the course; the user will have to pay extra. But since some LinkedIn Learning, Microsoft Learn offer lots of free courses, those course videos can be consumed for free. 
How useful
 is
Microsoft Viva
 for Small & Medium Business (SMBs)?
Although SMBs can use it, take their 30-day trial and see if they find it beneficial or not. But considering the prices of $5/per user/per month, it could be expensive for SMBs. Businesses that have a large workforce, big teams and a huge budget could find Microsoft Viva to be really useful.  
Upcoming
We keep uploading new blogs quite frequently on our website- keep an eye out for those.
Lastly, if you need help with more such IT Solutions, feel free to reach out to us. We'll be happy to resolve your queries.