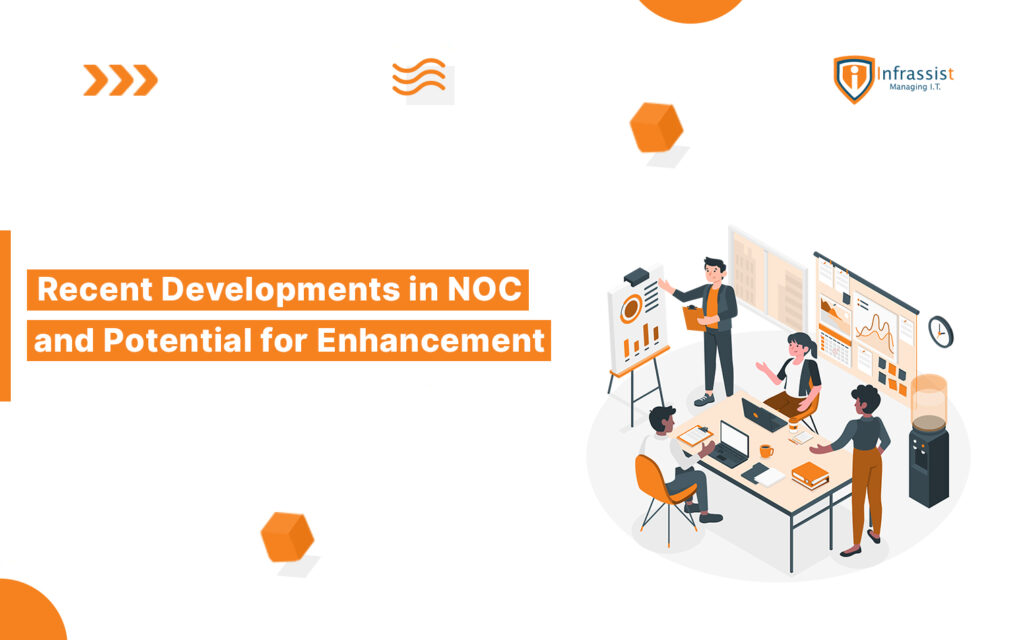 Recent Developments in Network Operations Center and Potential for Enhancement
The incredible thing is that rapid progress may be feasible in many Network Operations Center(NOC). The first step is to observe the organization's employment structure and the requirements for advancement. Network Operation Center follows a hierarchy promotion path. If that's the case, you may have no option but to wait it out. However, most companies allow career-minded techs to skip the line.
Scope of improvement for Network Operations Center:
The NOC's tracking and resolution processes have some flaws. These present opportunities for growth and increased value. However, resist the temptation to believe that you must collaborate with a slew of incompetents. The fundamental nature of data technology typically causes troubles in the NOC. Rapid advancement means that NOC is constantly battling to keep up with the times.
There are a few areas where most people can make improvements:
Monitoring. Is the NOC monitoring all end nodes and procedures that it should, or are infrastructure flaws infiltrating faster than engineers can keep up? Finding an understanding the NOC is not even looking for is impossible.
Diagnostics. When monitoring reveals a symptom, diagnosis identifies the disease. A rapidly evolving NOC can easily misidentify or even ignore critical metrics.
Knowledge base: The knowledge base of a NOC guides its decision-making process. Too often, occurrences are poorly studied or wholly omitted, resulting in redundant systems and poorly thought-out solutions.
Escalation. An effective escalation structure is essential for any NOC or help desk. It keeps high-level engineers from being overburdened, enabling the lowest tier to manage as many problems as possible. Equally as important, issues should not waste time among lower divisions when they are unprepared to handle them.
Automation is usually the key to creating upgrades in the following areas. The NOC typically becomes much more proactive by identifying the predictable and arranging systems to take the appropriate action, liberating techs to find deeper insights.
What is a Network Operations Center?
The NOC refers to a centralized location in which events that substantially impact services and infrastructure are monitored and managed 24 hours a day, seven days a week. You can handle this location directly or through companies that outsource the third party.
It doesn't matter much about advancement, though the NOC may supervise the overall growth surroundings because it's a "live service" for developers.
Screens are the cornerstone of any NOC as a service provider's mission control. The screens are the focal point of the walls. Then there are the operator desks or other features that are required, such as:
Telephones for communicating with relevant field/specialist support personnel and third parties.
Computers equipped with email, collaboration, and reporting software.
Service management software for tracking and increasing major events
Remote access and troubleshooting software for affected elements
Debugging guides and knowledge representation for mentioning system information
Television screens that display news, social feeds, and other pertinent information sources
What occurs at the NOC?
Monitoring & event management are the two most important jobs at the NOC. Other NOC activities include:
Traffic study
Network configuration management
Identification and response to faults
Diagnosis
Maintenance
Some NOCs are also employed to monitor security alerts, though some professionals advocate for detachment to use a Security Operations Centre (SOC) because of privacy concerns.
What types of people work in a NOC?
The NOC engineer is the front employee who is responsible for:
Understand how things work
Be able to pinpoint the source of problems using experience and analysis.
Based on the service provider's service offerings & infrastructure layout, the job scope of a NOC engineer may be pretty broad. Some organizations also delegate backups and patch management to NOC personnel.
Traditional NOCs' Roles
NOCs have been used by organizations to preserve an operational view of the network and also its services. NOC engineers and analysts adhere to best practices when monitoring network performance, handling service desk tickets, triaging and troubleshooting, and escalating problems.
NOC transformation
The NOC transformation process can look very different depending on the organization. Virtualization and automation are the driving forces behind NOC modernization. Instead of undergoing fundamental changes, many enhancements to NOCs are implemented as part of business strategies to virtualize, integrate, or modernize networks. These sorts of upgrades are carried out by network teams for those teams to realize their objectives of reducing downtime, increasing end-user satisfaction, and innovating.
Within the realm of networking, teams place a priority on advancement in the following categories:
network safety
the virtualization of network infrastructures
computerization of network processes
the enhancement of the performance of network operations
He explained that in enhancing network operations, teams investigate ways to improve service contract compliance and reduce mean resolution time. In certain situations, NOC teams are tasked with troubleshooting problems that initially appear to be network-related but are subsequently determined to be security incidents. If network and security teams worked together, they might be able to cut down on that lag time, which is potentially very important in the event of a security breach or attack.
NOC Transformation in the Future:
Although NOC transformation may result in cohesive operational processes with cross-domain workgroups, not all firms require radical change when slight revamps, and modernization suffice.
Let me take the example,
According to the ITIC's 11th annual Regular pay Cost of Downtime Survey, compiled in 2020, 40% of enterprise survey participants approximated that an hour of outages cost an organization $1-5 million in revenue, end-user efficiency, and administrator remediation. They discovered through evaluation that they need high levels of awareness of elements, setups, and interdependencies that can imply service status and concerns. One such functionality that institutions can utilize to meet this need is the Network Operations Center (NOC).
In the world of technology, it is far too simple to casually use the term "word change" while simultaneously losing track of what the term entails. Take, for example, the business of networking. Because of the nature of remote work, VPN protocols and access control must be rethought. A network's automation necessitates a transition from performing tasks manually to relying on automated procedures. Improvements in security and visibility increase the amount of cooperation with security teams. These developments have a domino effect on other parts of the industry, causing additional transitions such as transforming network operations centers (NOCs).
NOCs are not an exception to the rule that transformation happens in stages of varying incremental increases and levels; these stages are determined by enterprise techniques, risk, and motivation. Some companies do not operate network operations centers (NOCs) because they do not find a need for them. Others are gradually revamping their NOCs and working toward a full-fledged NOC transformation.
Transform your NOC operations mindfully!
Shifting away from a self-contained NOC and toward unified operations can help to streamline IT processes and enhance service delivery. However, impartial NOCs remain an established and trustworthy method of monitoring operations – and abandoning them is an interruptive strategy that may not be suitable for every organization. NOC transformation is not for everyone, and transitioning from a conventional NOC to an incorporated cross-domain control center is not always a best practice.
What is network operations center analyst?
Network analysts are employed by businesses to optimize IT network operations. They plays a crucial role in analyzing system issues and breakdowns the moment they occur across enterprise networks of clients and other users. Their duties include analyzing network requirements, setting up computer networks in one or across multiple locations, and configuring computer hardware and software for optimal network communication.
What is a data network operations center?
The NOC is the network-centric control room for the data center. It enables specialized personnel to monitor the data center's network infrastructure and quickly address any issues that may arise to prevent data loss.
Why have a network operations center?
NOCs are needed by any organization with IT infrastructure that requires high availability encompassing networks, servers, applications and websites. Network operations centers provide back-end maintenance, support, and resolution of problems to ensure client and organization uptime