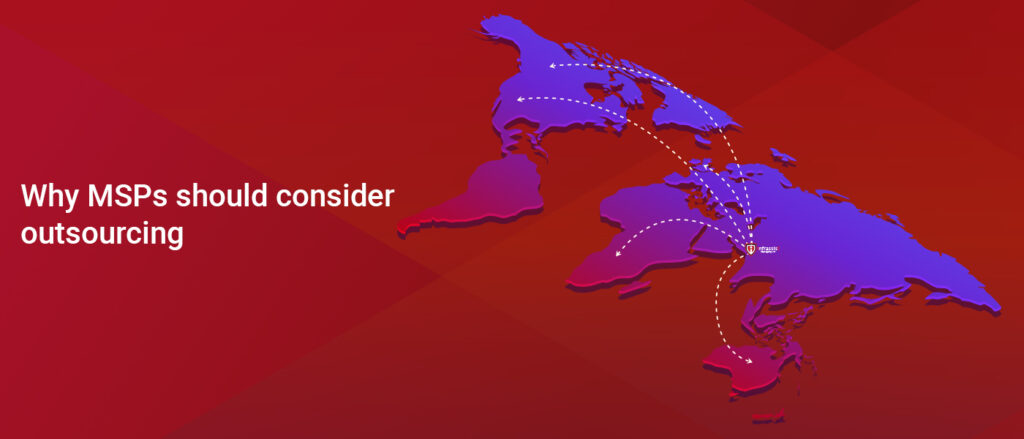 Why MSPs (Managed Service Providers) should consider outsourcing
Why MSPs should consider outsourcing
The COVID-19 pandemic has made businesses work from home. An even bigger problem was faced by companies that relied heavily on on-premise systems. The pandemic made companies migrate to the cloud and made many adopt backup facilities. Surprisingly, remote working became the new norm. With the enormous number of companies transitioning to the cloud, the lockdown was a period of growth for MSPs (Managed Service Providers). For instance, new clients were onboard thereby increasing the workload. The inflow may have hampered productivity and that is when many MSPs started feeling the need to outsource.
This is where the concept of Master MSPs comes in; they are companies that help MSPs by sharing their workload and assisting them with their day-to-day tasks or taking up fixed-scope projects, thereby improving their efficiency. 
Why MSPs should outsource their IT services?
If, you are an MSP that focuses on providing effective and the best IT Services to your customers and you have never outsourced. To enumerate, here are reasons why you should outsource your IT services: 
An increased focus on Business Expansion: One of the major reasons why an MSP should consider outsourcing is- Business Expansion. 

By delegating

daily routine tasks to Master MSPs, you can spend your time, energy, and resources on other important tasks. Moreover, you may consider expanding your businesses to new territories and increasing your customer base, commencing work on running a new business division…the possibilities are endless.

 
Go 24×7 with Time Zone as an advantage:

When you outsource to MSPs offshore, you get an added advantage of the

time zone

. Master MSPs work 24×7 at your service so that you do

n't have

 to

 

face

 any

 downtime

. Additionally, your employees

won'

t 

have

 to 

work in 

shifts

 

(a better sleep cycle may also enhance productivity)

.

 
Test waters with a fixed scope:

You do not necessarily need to outsource huge projects to Master MSPs straight away

.

 

T

est their skills and capabilities by starting off with projects that have a fixed scope

. If the results are satisfactory, you can dec

ide on moving on with a full-fledged partnership, consequently

.

 
Saves Cost: Outsourcing Master MSPs that get you a skilled workforce at an economical price would be more profitable than hiring employees on-site. Not to mention, outsourcing could also reduce your capital expenditures to a large extent.

 
Productivity increases: The constant alerts being raised can shift your focus from onboarding new clients to providing continued technical assistance to them. However, if outsourced, you can leave this task to the Master MSPs and not get overwhelmed. With this new clarity in the minds of the staff, productivity increases. Not only can you focus on your relationships with existing customers but you can focus on forging new partnerships.

 
Stress Less: If you decide to outsource, you don't need to stress and worry thinking your engineers would leave

the

 organization. There will be no fear of losing your existing customers. Leave it onto the Master MSPs as they will always have a dedicated resource working for you.

 
Whom should MSPs outsource IT services to? 
If you 

serve

 

Small and Medium Businesses (SMBs), outsource IT services to Master MSPs willing to provide services to SMBs

. If you 

serve

Large enterprises, choose a Master MSP that is capable enough to fulfil your requirements or vice versa. Certainly, this ensures that your money is getting invested in the right places and simultaneously reap the returns.

 

Partner with Master MSPs that have similar goals and share the same vision and also align with your work culture. In addition, partner with the ones who are ready to cater to your needs 24×7 and also fit your budget.

 
What to outsource? 
Outsource IT services that eat up most of your time and needs constant attention. For instance, NOC services that require continuous monitoring of the servers, or the ones that need troubleshooting, could be outsourced.

 

Migration services that require an experienced and skilled workforce, especially, can be outsourced.

 

RMM and Firewall Audits

 
About us:
Infrassist Technologies Pvt. Ltd, established in 2015, is a Master MSP that provides 24×7 professional IT Services to MSPs, globally. We are located in Ahmedabad, India and have a team of experienced engineers who have served 50+ MSPs across 15+ countries. MSPs can focus on their core business while we help them scale up by taking up their routine tasks.  Trust our competency, as we provide you with impeccable customer service and a seamless experience. 
We are an ISO 27001:2013 certified company, hence securing your data is our topmost priority. We provide 24×7 NOC services, Staff Augmentation and Professional services; wherein we provide consultation and carry out the implementation of Microsoft 365 (MS Office, Onedrive, Sharepoint), Microsoft Teams, Azure AD, WVD, Intunes, security and compliance-related services.