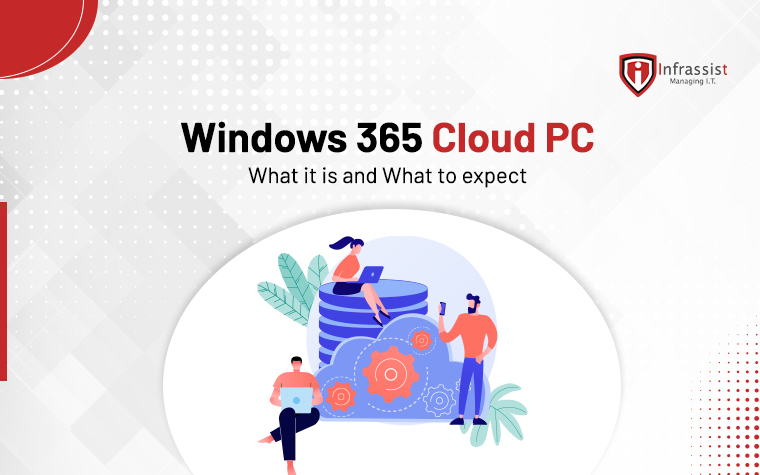 Windows 365 Cloud PC: What it is and what to expect
Windows 365 Cloud PC – a service launched by Microsoft that lets users access Cloud PCs (hosted in the Cloud) remotely. In short, Microsoft has built a PC in its cloud infrastructure and people around the world can access it.
"Windows 365, which takes the PC to the cloud, gives people the ability to connect to their content, applications, data, and settings without limiting them to any single device."  

"Windows 365 gives users the agency to connect to their apps, data, and settings from any device and any endpoint. It creates a new category called Cloud PC, which uses both the power of the cloud and the capabilities of the device to provide a full, personalized Windows experience, anywhere."

– Microsoft Corporate Vice Presidents Jared Spataro and Alysa Taylor. 
 Link to the article, here.
How is Windows 365 Cloud PC different from Windows Virtual Desktop (
Azure Virtual Desktop VDI service)?
Windows 365 aims to be a simplified VDI service when compared to Azure Virtual Desktop VDI. It is said to simplify the virtualization experience for users. You can resize (downsize or upsize) the processing power of a Cloud PC depending on the need and usage of a user.
Windows 365 has Microsoft-managed Azure Subscriptions, whereas Azure Virtual Desktop has Customer Managed Azure Subscriptions

Windows 365 doesn't use any profile management and storage platform like Fslogix, the way Azure Virtual Desktop does

Windows 365 has a fixed cost whereas Azure Virtual Desktop has a usage-based pricing
Windows 365 is less flexible when compared to Azure Virtual Desktop
These are just a few of the differences. Microsoft still recommends Azure Virtual Desktop for users that require more customization and flexibility. 
What's new and what to expect.
Microsoft is launching another new product which is named Windows 365 Cloud PC. The first time we heard about it, the question that came to mind is – Is it the same thing packaged differently? 
You can use Windows 10 or 11, on the cloud. Turn your personal PC into a Cloud PC. Whether you are using a Windows, Android Linux, or an Apple Device -Windows 365 is your personal cloud PC. Pick up right where you left off because every data, every app, every file is on the cloud. 
One can use Windows 365 Cloud PC through any modern web browser or via Microsoft's Remote Desktop App. 
Will be made available to businesses on August 2, 2021, on a per-user, monthly subscription. 
Users can create cloud PCs within minutes. The cost of physical hardware can entirely go down. The technology is backed by Azure Cloud Desktop services. Microsoft is revolutionizing the modern workplace by integrating everything to the cloud so that data and information are always easily accessible. 
One can log in to their Windows 365 Cloud PC by using their Microsoft Account credentials. Users will also be able to use multi-monitors and work simultaneously using the Remote Desktop app. 
Benefits:
You get all benefits of a powerful hardware

 

Your hardware would have a longer shelf life as everything is on the cloud.

 

Processor Speed will always be at its optimum.

 

Fixed price and management through Microsoft Endpoint Management

 

Enhances download and upload speeds

 
Download and Upload Speed
Tom Warren, senior editor for The Verge, (founder of WinRumors – a website dedicated to Microsoft News) did a speed test and this is what he found: 
Steps to deploy a Windows 365 Cloud PC
A Cloud PC can be provisioned from the Microsoft Endpoint Manager (MEM) dashboard. The 2 basic requirements needed to fulfil and deploy a Cloud PC are: 
License

 

Users need to be part of an AAD (Azure Active Directory) group that is assigned to a provisioning policy.

 
In the Microsoft 365 Admin Centre, you can assign licenses, allot a Cloud PC, and add them to a group that has a provisioning policy assigned to it. This enables Cloud PC provisioning. 
What about monitoring the health and performance of a system?
Analytics have been built into the service to look at connection health across the network. Diagnostics are continually run to check all Virtual Networks and domains. If something is not right, the service alerts you and gives suggestions on how the issue can be corrected. 
For example, the service shows reports and admins can see the CPU usage. So, if a user in the network or your organization needs more CPU Storage, it can be centrally assigned to them via the Windows365 Cloud portal, 
It uses MFA (Multi-factor Authentication) to verify and authorize logins and access to your Cloud PC through integration with Azure AD. And within the MEM Dashboard, you can pair the MFA with Windows 365 Conditional Access (CA) policies to instantly assess login risks for each individual session. 
Questions & Answers
Will it replace Azure?
No. Azure still remains. Windows 365 Cloud PC uses Azure Networking to establish a network connection to let you access your internal business apps, intranet, or file servers. 
Can you install third-party apps or software?
Yes, you can. 
When using apps that require audio and video devices, how would Windows 365 work?
For using external devices like a webcam, users will have to use the Remote Desktop App to access Cloud PC in order to share the video. But in case the video is not enabled and only 2-way audio is in usage, the browser would do, instead of the Remote Desktop App. 
What if you're accessing Windows 365 Cloud PC on your iPad and you want to connect to a local printer? Will it have support for USB redirection?
Yes. Similar to the external webcam scenario, connect your Cloud PC using Remote Desktop Apps. You'll be able to enable various USB peripherals.
Since everything is on the cloud, how much bandwidth do you need?
If you can stream a movie, your internet bandwidth is enough to access and use this service.
 
Will IT Admins have to learn something new?
No. If your IT Admins are currently managing all devices through Microsoft Endpoint Manager, this is the same. You can manage your cloud PCs along with all your regular PCs through the MEM Portal. 
Can Cloud PC Specs be changed depending on their usage?
Yes. You can resize according to your requirements. 
Can users be prevented from copying data to their local PC?
Yes 
Conclusion
Feels like Microsoft has taken an oath to revolutionize the way people work and modernize the workplace (not necessarily the office but wherever the user is). The pandemic and remote working have only given more fuel and mileage to their drive and we are rooting for them.
Upcoming:
We keep uploading new blogs quite frequently on our website- keep an eye out for those.
Lastly, if you need help with more such IT Solutions, feel free to reach out to us. We'll be happy to resolve your queries.