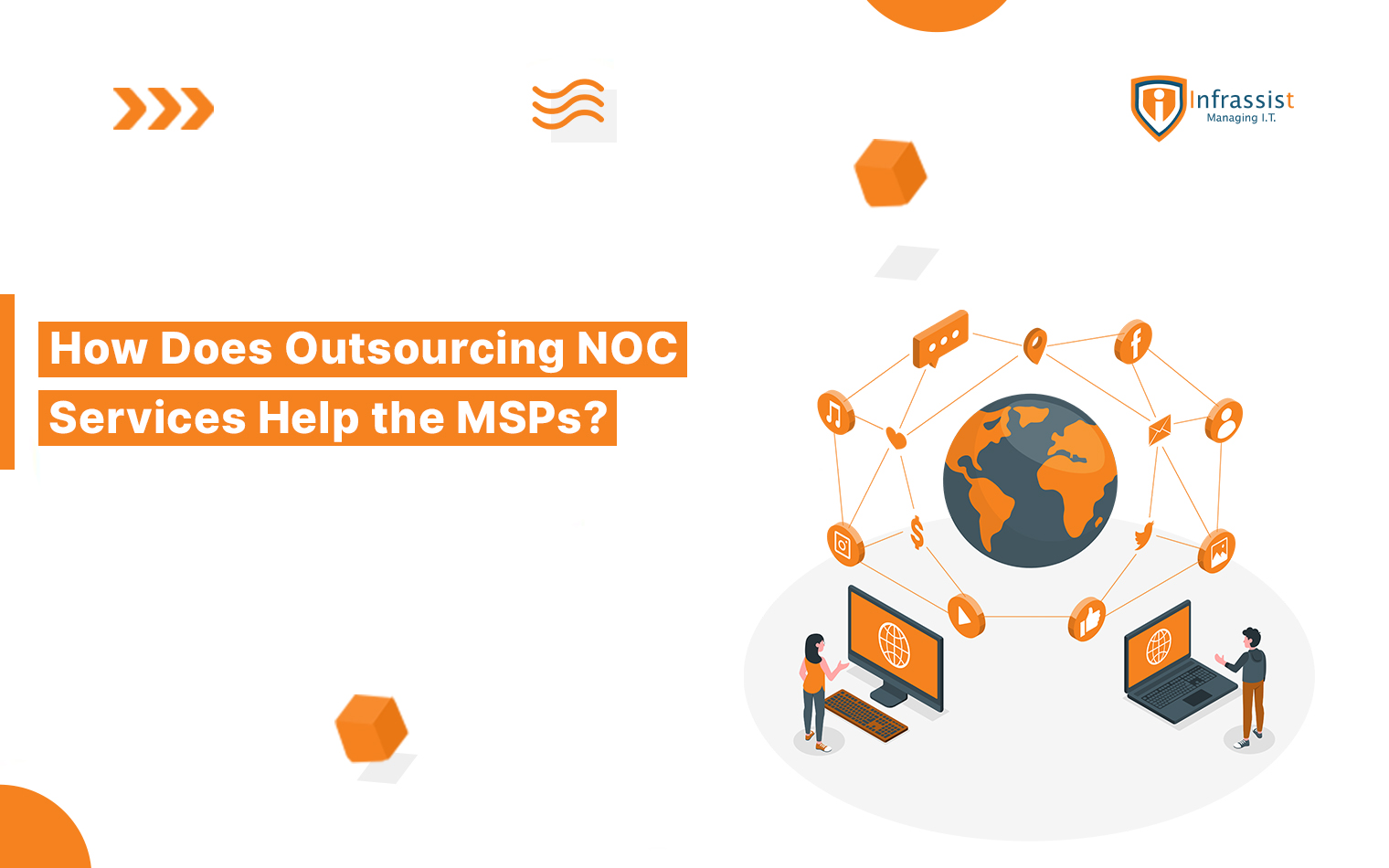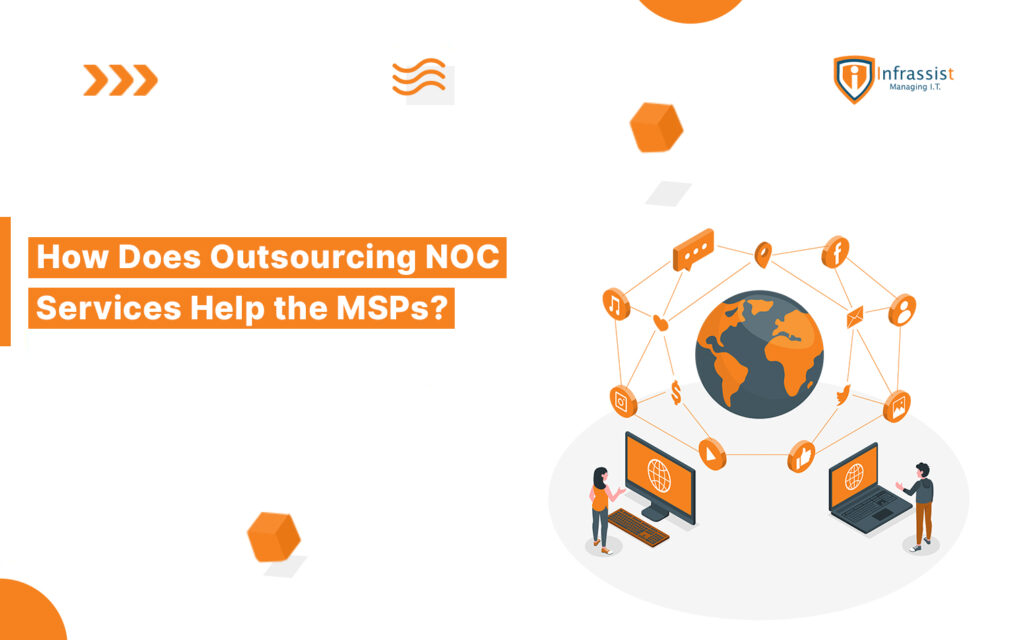 How Do Outsourced NOC Services Help the MSPs?
Forward-thinking SIs and MSPs face a plethora of growth markets. The technologies being introduced into the corporate and mid-market need the expertise of specialists who can integrate complex multi-vendor platforms. And negotiate the sometimes exhilarating and challenging reality of digitalization.
A thriving ecosystem of suppliers and key partners willing to interact with SIs and MSPs to satisfy that need has developed as the gradual movement to the cloud continues, spurred by the growth in demand for Managed Services. Despite increasing suppliers and partners, a vital area remains underserved: high-quality 24×7 Network Operations Center (Outsourced NOC Services) capacity.
What is a NOC?
IT specialists can actively assist remote monitoring and management (RMM) software at a network operations centre, often known as a NOC (sounds "knock"). NOC teams are widely used in the managed IT services industry and are a driving factor of service delivery for several managed service providers (MSPs).
Such technical teams maintain a close eye on the touchpoints they oversee and manage, autonomously fixing issues as they emerge and taking preemptive measures to avoid system outages. NOC personnel are also significantly involved in high-level security activities and disaster and backup recovery (BDR) operations, ensuring an MSP's clients have uptime 24/7/365.
It is the focal point for every upgrade, troubleshooting effort, and network performance tracking. Because of the resources necessary, it is typically provided by a competent outsourced organization.
NOC has grown throughout time and is no longer limited to surveillance devices, including Routers, Servers, and Switches, but has also expanded into power, environmental, Cloud, and service components, including Traffic, Transactions, and User trends.
Why Should MSPs Consider NOC?
There are various reasons you should use Managed service providers, including full-time technical assistance from top computer specialists. Professionals were hired to run the machines and permitted to resolve complex problems that arose at the last minute. In addition, they strive to provide high-performance systems with special security measures.
Furthermore, managed service providers can identify minor difficulties early on, allowing you to discover and correct significant faults immediately. Cloud, systems, and other operations are all managed by managed service specialists. They can manage operations that increase efficiency, from software to hardware, ensuring corporate success.
Managed service providers improve performance with minimal downtime and continue to monitor and repair bugs regularly. The best part is that any downtime fault is entirely their responsibility, and they used to handle them successfully, allowing them to manage the processes more efficiently and inventively.
Five Key Advantages of Outsourced NOC Services
A suitable NOC service provider can benefit your company and customers in a number of ways:
Savings in Time: Your IT personnel will get more time to concentrate on other activities without dealing with unexpected network difficulties, mediation, and troubleshooting. A respectable NOC network operator will notify your personnel of any issues they cannot resolve. This will raise your income by increasing the effectiveness of your workforce and organization.
Cost Savings: Establishing and maintaining your own NOC can be costly, requiring a significant initial financial investment that you might not have. Other expenses include keeping up with technological advances, such as monitoring tools, employing and retaining professionals to give the necessary competence to run the operation, and so on. Outsourcing will alleviate this enormous financial burden.
Maintaining Your Reputation: Choosing the ideal NOC service provider can help you maintain your reputation as a trustworthy, high-performing MSP. If you are a new MSP, the proper applicant will assist you in swiftly establishing a brand that will bring you additional clients and money.
Rapid Scalability: When your company expands, so will its infrastructure requirements. An outsourced NOC can adapt quickly to changing demands, accommodate needed expansion, and support new company activities. As you provide new products and services to clients, an outsourced collaborator can help you reduce time-to-market.
Individualized Client Attention: In addition to the time savings mentioned above, outsourcing enables you to provide your clients individual attention, particularly those with unusual IT system requirements. These requirements, for example, may necessitate bespoke run books. Creating those requirements takes time. A reputable NOC service provider has the time to construct customized run books, something your team may need more.
Two Major Drawbacks
There are just a few factors why outsourcing business NOC services might not be a wise option, which will aid in your decision-making procedure.
Lack of Control: To what extent are you ready to relinquish control and involvement in the operation of the NOC? In this case, we're talking about the deployment models that your outsourced NOC network operator may give. A good one would be adaptable in terms of responsibility sharing and will provide you with some control and visibility over their operations.
Finding the "One": The most challenging aspect of this is finding the right MSP. Your ideal MSP should be a real partner, not simply another supplier on your list. Furthermore, they must be capable of meeting your long-term aspirations for the future as well as your immediate demands. It is only to be hoped that the supplier you have selected will turn out to be a trustworthy and effective business associate.
What is the Difference Between a Network Operations Center and a Help Desk?
An IT help desk is a team of IT support experts that work in-house to address end-user difficulties. Technicians are usually reactive since they reply immediately to the user to remedy technical issues as they emerge.
Help desks need not routinely check client connections for possible problems, unlike NOCs. Some NOC service providers incorporate a support desk feature in their offerings. However, many MSPs choose to maintain the help desk role rather than delegate it to the NOC services department to maintain control over the customer-facing tasks.
Wrapping Up
As a white labelled solutions agency, Infrassist provides comprehensive professional 24×7 NOC management for your SMB or MSP, allowing your firm to reap the benefits of a high-performance, well-managed, and regularly monitored IT network infrastructure. This top-tier organization delivers end-to-end solutions through its unique Full Technology Lifecycle Support Model. Your company will no longer need to spend money on an expensive in-house IT team and department.
You and your employees can focus on critical business tasks and initiatives crucial to your organization's mission and productivity by partnering with this highly qualified, experienced, and effectively managed NOC services provider. Offering smooth, dependable, and secure data storage and secure, dependable, and cutting-edge Internet technology services, you will have full access to IT network service advantages every day, every week, and throughout the year. These premium NOC benefits will improve your business operations, resulting in increased profitability and success.